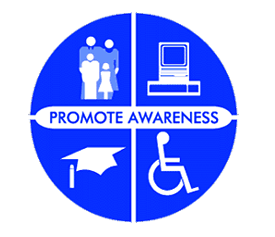 NOW AVAILABLE: A New Training Video!
To view A 6 minute sample of this video go to https://www.youtube.com/watch?v=Jc2ewonYJ88
A new training video, entitled "Disability Community in the Medical Community", that focuses on the topic of working with families and people with disabilities in the medical school/office is now available!

The cost of the video is $20.00 per DVD plus shipping in handling. Shipping in the US is $4.00 per DVD.

Any questions on the content of this training DVD?
Please email: CohnPA@juno.com
OUR MISSION STATEMENT
Our mission is to make a difference in the lives of people with disabilities. How we do this is by providing access to assistive technology. Information on how to obtain other resources to make life as fulfilling as possible. During the upcoming year, Promote Awareness will be raising money for individuals to obtain assistive technology in the home or in the work place. We welcome any donations or contributions to make this program benefit as many as possible.
WHAT WE DO AND WHO WE SERVE
Promote Awareness is a non profit organization that provides information and resources to individuals, organizations and corporations.
Newsletter
The Spin is an online newsletter that includes personal stories, advice, resources, and information on assistive technology. Input is from our members as well as professionals outside of our board of directors. If you would like to submit an article, please forward it to cohnPA@juno.com.
Seminars
Promote Awareness has conducted seminars nationwide in a variety of settings. Major corporations and universities have hosted our organization. The focus of the seminars has been breaking down stereotypes of people with disabilities. We encourage people to look beyond disabilities, and to focus on their strengths. If you are interested in our seminars or have questions, please contact us via our email cohnPA@juno.com
Consultants
Promote Awareness has been a consultant numerous times on a variety of topics concerning disabilities. Consulting is done via e-mail/ phone/ or in person. If you have questions or need additional resources please contact us at cohnPA@juno.com
&nbsp
PROMOTE AWARENESS
2226 Oregon Court
St. Louis Park, MN 55426
Phone: (952) 593-5498
Email: cohnPA@juno.com